About the Area
Things to Do in Lake Lure, NC
Life is good living on Lake Lure. 
Nothing beats renting a boat, kayak or canoe or going on a boat tour and enjoying Lake Lure's beauty right from the heart of it all. And Lake Lure's historic Flowering Bridge has been rejuvenated by a group of local master gardeners, transforming it into a lush garden paradise. It's only of only a few such treasures in the country.
Open from Memorial Day through Labor Day, Lake Lure Beach provides the perfect warm-weather getaway. The beach has a water slide and other wonderful vantages and activities the whole family will enjoy.
Other Outdoor Adventures in Lake Lure
Hike to explore the wonders of Chimney Rock State Park, a 1000-acre scenic attraction with numerous hiking trails, beautiful Hickory Nut Falls and numerous other park sites. In Chimney Rock Park, Rumbling Bald Climbing Access is perfect for the outdoor enthusiast, with trails leading to hundreds of rock formations on Rumbling Bald Mountain, for an amazing hiking, climbing and bouldering experience.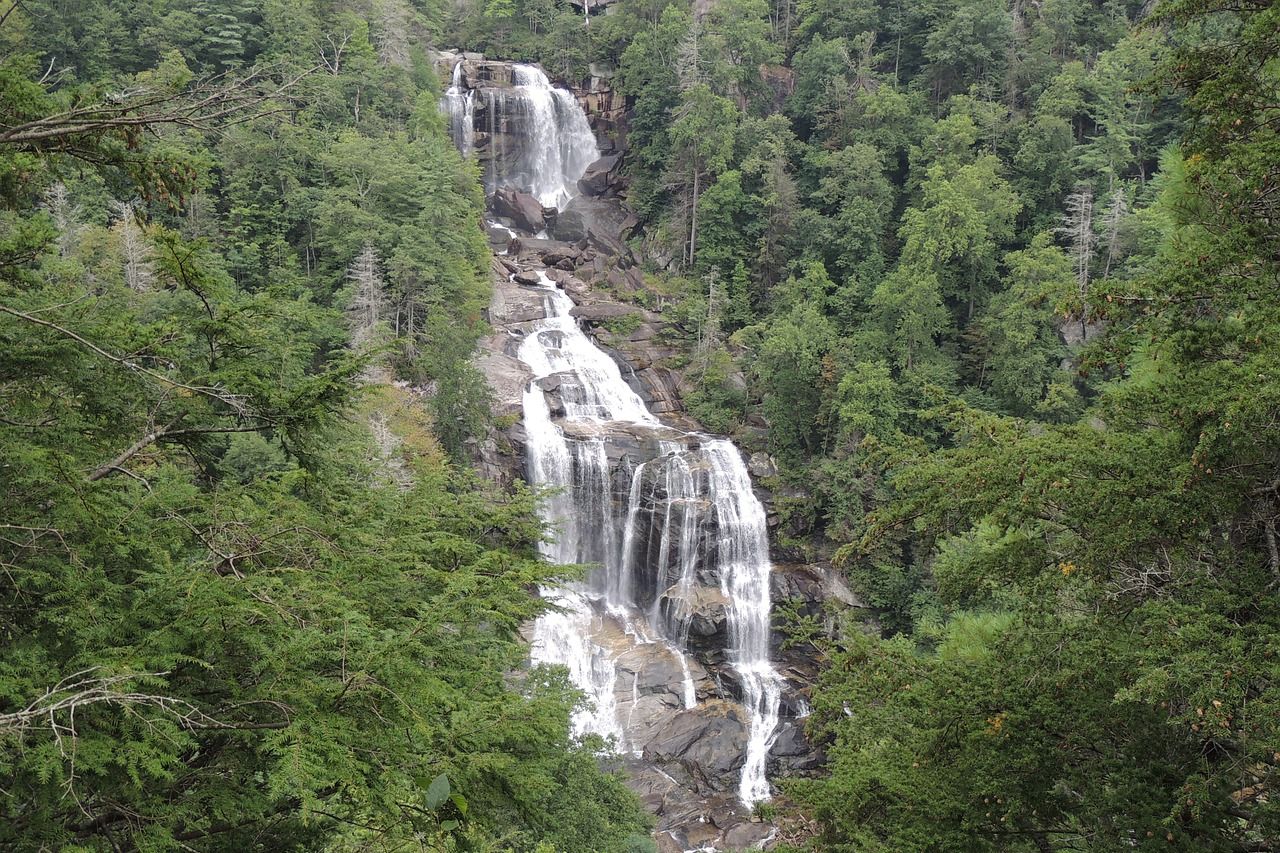 If you're looking for a beautiful wooded hike that's perfect for people, kids and dogs of all ages, then you'll enjoy these beautiful trails and select picnic spots along Donald Ross Nature Trail Park. The 3+ miles of well-maintained trails vary in difficulty and allow you to be one with nature in a serene wooded landscape.
For an incredible hiking or biking experience, don't miss Buffalo Creek Park for Hiking and Mountain Biking.
Don't forget to take photos to make your social media friends envious! 
Take a stroll through Morse Park and Marina and be amazed by the splendor, or take a guided pontoon boat tour from the marina for stunning vistas that will take your breath away.
And if you're thinking about taking an afternoon stroll past small shops or dining in intimate places, enjoy shopping and dining in quaint Chimney Rock Village.
Delightful Annual Events
The Lake Lure Arts and Crafts Festivals are held every Spring and Fall. The Spring Festival occurs at end of May; the Fall Festival in mid-October. The festivals feature over 100 crafters from around the country, who come to Lake Lure to sell their artisan arts, crafts and food, and provide dramatic and musical entertainment.
The Lure of the Dragon, Lake Lure Dragon Boat Races — Every June, 12-25 teams compete to be the fastest boat on the lake. The boats are colorfully decorated and the race itself is too much fun to miss!
Nothing beats the Lake Lure 4th of July Fireworks display, with two shows to celebrate our nation's independence. The first, sponsored by the Lake Lure Chamber of Commerce, takes place at Morse Park on July 3rd or 5th. The second, sponsored and hosted by Rumbling Bald Resort, takes place on July 4th. The Rumbling Bald fireworks can be viewed from the lake and other vantage points. Viewing this show from within the resort is limited to resort members and guests staying at the resort.
Every August, Lake Lure toasts what is perhaps the most famous movie ever filmed here, Dirty Dancing! The Dirty Dancing Festival features dance lessons, live music and an evening outdoor giant-screen showing of the movie — because no one puts Baby in a corner.
August is also the time when hundreds of swimmers, runners, cyclists and golfers come from all over to compete in the Lake Lure Olympiad. This exciting event also includes Junior Olympiad events for the kids.
Discover More about Lake Lure