Puerta del Cielo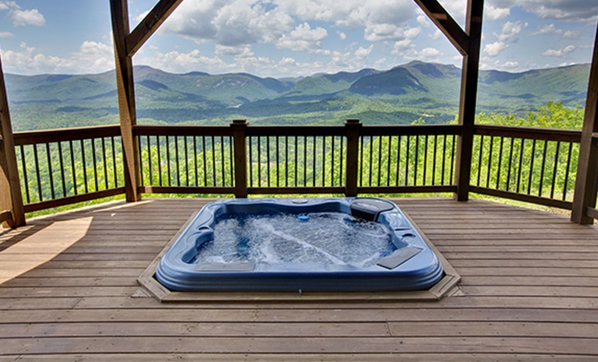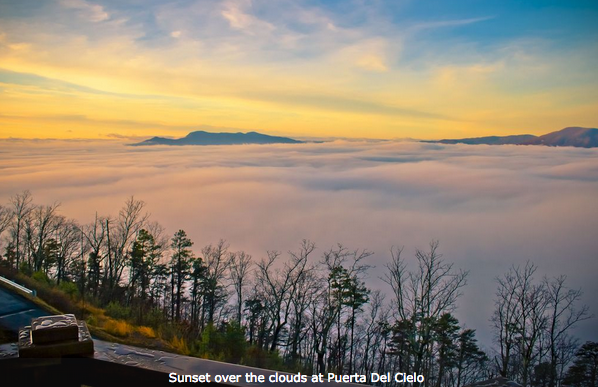 Puerta del Cielo: The Ultimate Escape to Heaven on Earth
Exquisite designs and breathtaking features await in every room of this dazzling mountain retreat, but its true magnificence lies in the awe-inspiring landscapes that surround. Perched atop a private mountain lookout just outside the town of Lake Lure, enchanting 360 degree views await from every every angle of every room, views unlike any other in the world—Grandfather Mountain, Mt. Mitchell, Linville Gorge, Chimney Rock, Hickory Nut Gorge, and even Lake Lure.
This heavenly estate is the absolutely perfect place to truly leave behind the cares of the world, a place that really is a Door to the Sky.
Interior Features
Take away the stunning mountain vistas and this estate is still an exquisite vacation destination. Three dazzlingly detailed levels offer six spacious bedrooms, four and a half bathrooms, an expansive gourmet kitchen, a bonus game room, and a dining room that seats 12. The home comes furnished with three king-sized beds, two twin bunk beds, three queen beds, and two pullout queen sleepers.
But all these features are just the beginning. What truly makes this home an exceptional retreat are the expansive floor-to-ceiling windows revealing bewitching views from nearly every room, or perhaps the many different options for outdoor seating—including a deck jacuzzi—each of which comes with its own spectacular vistas. But perhaps the most spectacular experience of this home is simply sitting outside beneath an endless sea of diamonds stretched across the night sky, or watching a rainbow of pastels slowly parade across the sky as the sun climbs the horizon to welcome the day.
Exterior Features
Though it offers a feeling of true tranquility and seclusion atop Bill's Mountain, Puerta del Cielo is actually part of the Vista at Bill's Mountain community, a private gated and guarded neighborhood. In addition to an unbeatable location, Vista offers a community pool, tennis courts, and clubhouse.