ARE Vintage Cabin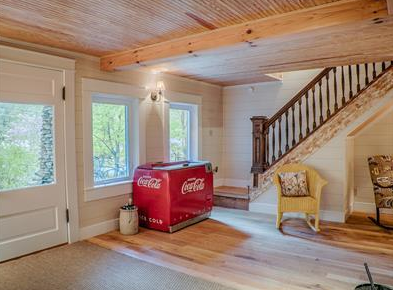 The story of ARE (Anne & Rodney Everett) Vintage Cabin began almost 20 years ago when we first started dating.  We went on a day trip to Chimney Rock, walking through town, and saw the  truss bridge. Once across we spotted the cabin. A man was raking leaves in the yard and we asked about the house.  He said it had been in his wife's family for years and they would never sell. They invited us inside, we fell in love with it! A few years later we brought some of our children, there are 6 in our now combined family, back to visit Chimney Rock. Anne is an early riser, plus the hotel bed we stayed at was made of concrete, so she and her youngest daughter went on a walk while the guys slept. When they came to the bridge, memories of the cabin were renewed. As we walked down the street a for sale sign was visible. Grabbing my daughters hand, I ran down the street and the cabin that would never be for sale was for sale! We raced back to the hotel, poor daughter trying to keep up, woke up Rodney, waited for the listing realtor to call back and boom, offer made. After much negotiating, another story, 2 months later it was ours.
The cabin needed quite a bit of updating and repairs, as we found out later there were 2 other owners since we first saw it and it had been neglected. We saved, we visited, we roughed it out with no heat just to be there. We celebrated birthdays, anniversaries, mourned & healed after losing grandparents, rested and found our piece of heaven.  Finally, after 2 bad experiences with contractors, another long story,  we found a talented craftsman and ARE Vintage Cabin has been completely renovated with much TLC. There is something about this cabin that refreshes, renews and relaxes you every time you visit in any season.
ARE Vintage Cabin is located in the heart of Chimney Rock. Just minutes from restaurants and shops, across the street from the Rocky Broad River and less than a mile  to the Flowering Bridge in Lake Lure. 
Lovingly restored and updated, ARE Vintage Cabin is ready to host your getaway.
ARE Vintage Cabin is the perfect blend of vintage charm and modern convenience. Reclaimed wooden floors, wood burning stove in stone fireplace. Custom kitchen with new appliance, stove, oven, dishwasher, microwave all to make your visit    the perfect vacation.
Each bedroom has a queen bed and dresser. The upstairs bathroom features a claw footed bath tub, while the main level bath has a full shower. 
The decks and porches are perfect for relaxing and listening to the river across the street.
Interior Features
Bedroom 1: queen
Bedroom 2: queen
Bedroom 3: queen
Bathroom 1: toilet/walk-in shower
Bathroom 2: toilet/claw foot tub
Kitchen: fully-equipped
Dining: seating for 8
Laundry: washer and dryer
Fireplace: Wood
TV: Yes
Internet: Yes
Exterior Features
Decks/patios: Yes
Grill: Yes
A short walk to river's edge
Pets allowed: No